This OVA was filmed using a special 3D technique and requires specialized hardware to view the 3D effects. You can read more about the history behind this technique in this article. Dave Merrill's post provides more information and a few pictures of the VHS release.
Japanese Title:

Scoopers

Release Date:

1987 December 01

Run Time:

58 minutes
Synopsis
It's the 22nd Century and a pair of journalists are on their latest assignment, an unsolved murder. The only clue points to a vacation resort/theme park called Technoland. But it's also the genius hideout for the master villian Mister X.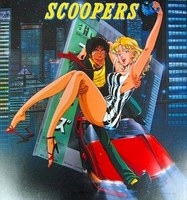 Scoopers is another example of why the one shot OVA is difficult to pull off well. The story starts with a less than interesting premise; a mysterious Mister X is doing nasty things like blowing up space shuttles during launch. Who better to track down this dastardly villain than a female reporter and her trusty, and slightly lecherous, android photographer. What follows is a series of lackluster action sequences culminating in an ending that leaves room for a sequel. Why anyone would be excited enough to create or watch a sequel after this entry would be the greatest mystery to solve.
The story is not necessarily awful, but there just is not enough time to really do anything interesting. It plays around with some interesting concepts – androids, pulling people into a computer ala Tron. However, they are just thin devices used to move the action scenes along until the end credits roll. If you are a Monkey Punch fan, you will get some slight entertainment out of it, but this is an otherwise forgettable title.
Director:
Script:
Storyboard:
Unit Director:
Music:
Original story:
Character Design:
Art Director:
Animation Director:
Sound Director:
Director of Photography:
Staff data provided by Anime News Network. Check their official page for any additional data not supplied through their API.